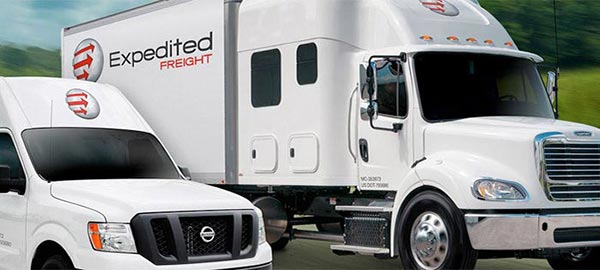 In our decade plus of expedited shipping we have established connections with truckers in all fifty states plus Canada and Mexico so you can expect your overnight freight to be picked up within hours no, matter where you're located. It may be a sprinter van, or it may be small large, or medium straight truck, but you can rest assured it will meet your shipment's requirements without going over them. Your agent will choose based on the size and dimensions of your cargo, taking care not to waste your money by sending you more truck than you need.
If the distance and lead time permit it, the drivers who load your freight onto their vehicle will take it all the way, nonstop, to its destination. In many cases, two drivers will arrive, so they can spell for each other on the way, doing away with the need for time-consuming rest stops. Nor will they be eating up time with stops to pick up other customers' cargo, because when you ship with Expedited Freight, the vehicle is dedicated to your shipment. This not only speeds up delivery times, but adds to your cargos security since there will be no transfers or cross docking, either of which can bring the possibility of loss or damage.
But your agent's job is far from over. Thanks to the state-of-the-art logistics technology all of our agents have at their fingertips, he will monitor the truck's progress via satellite tracking as it travels to your customer's door, and give you timely updates so you can pass them on to your customer if you'd like. He'll even be the one to issue your invoice and follow up with you to make sure all your needs were met.