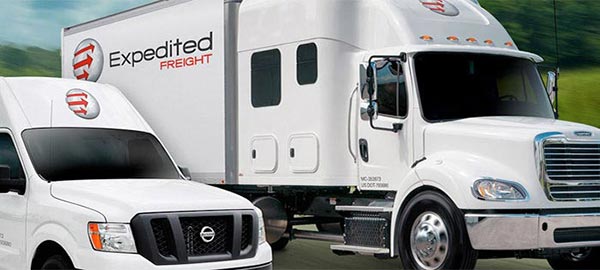 Thanks to over a decade of providing same day delivery services all over North American continent, Expeditedfreight.com has formed relationships with truck companies and experienced vetted drivers in cities and towns all over the country, including Alaska and Hawaii.
This means no matter where you are, we can arrange for a vehicle to pick up your shipment. In fact, within moments of talking to you, the agent will have already dispatched a truck dedicated to your cargo, and your cargo alone. The size and dimensions of your next day delivery cargo will determine the size and type of vehicle we will dispatch. The vehicles available to us include:
Cargo and sprinter vans — 48" wide x 72" high and 8 to 14' long with weight capacities of 2,000 to 4,000 lbs
Small straight trucks — 84" wide x 77" high, and 14 to 18' in length, with weight capacities of 4,000 to 6,500 lbs
Large straight trucks — 96" wide x 100" high, and 20 to 26 ' in length, with weight capacities of 10,000 to 12,500 lbs
If your destination is within same day driving distance, this dedicated truck will take your shipment nonstop to your customer. In order to expedite its arrival, two drivers may be dispatched so they can spell each other, avoiding time-consuming rest stops. Meanwhile, using the state-of-the-art logistics technology we have invested in, your agent will monitor the truck every mile of the way, as it proceeds nonstop to its destination. And you can be sure your agent will keep you in the picture with constant updates.